Wixom Airport Taxi & Limo Service
MDS Wixom Cab Service offers airport taxi service for Detroit Metro Airport (DTW), including South Lyon, Hartland, Grosse Pointe Farms, Shelby Township, Troy, and all of Southeast Michigan and surrounding cities across Michigan. We offer Wixom cars to DTW transfer to the airport 24 hours a day throughout the year, consequently, if there is rain or shine, our driver will arrive on time.
Wixom Town Car service ensures the best condition of our vehicles. They make an excellent fashion statement.
Metro DTW Sedan is a fully customer-driven company that offers Wixom limo service which strives to please customers at every point. This is why we offer our extensive fleet of top vehicles and limos with amenities you'll enjoy! You'll receive friendly, dedicated, and effective service.
Transportation to and from Metro Detroit International Airport (DTW) or other business airports near Michigan includes
Our aim is to offer a low-cost, high-quality service with a culture of integrity and confidence. We're committed to excellence, and we'd like to see it be evident in all we do.
MDS Wixom car service also provides services for trade exhibitions, business meetings as well as events within Detroit or its suburbs and will take care of all essential requirements as simple, fast, and safe journeys.
Wixom Taxi Limo to Detroit Metro Airport Car Service
Detroit Metro Airport Taxi, Car, Limo & Sedan Service for all your DTW Airport Ground Transportation need 24/7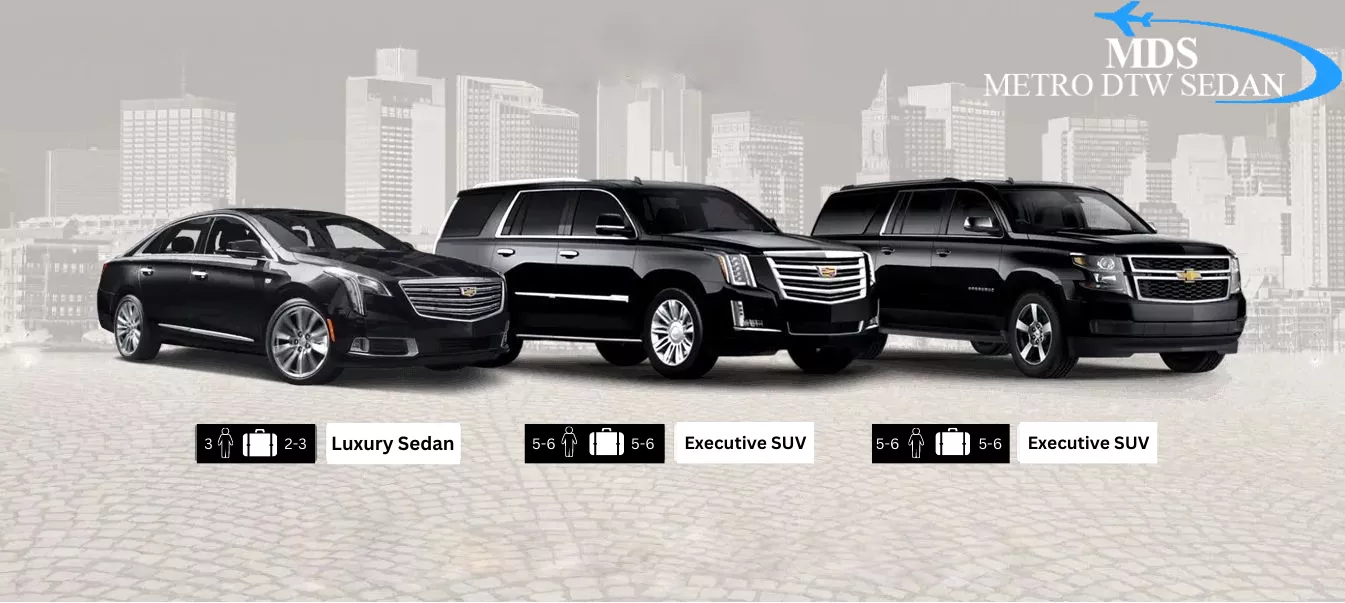 Metro DTW Sedan has been providing Wixom Taxi service since 2001. We respect every customer, and we treat everyone as a VIP. We'll meet your requirements whether you're traveling with family or alone with door-to-door service. Our well-trained professional chauffeur is familiar with the most efficient routes and transports passengers straight to the DTW Airport and then drops them off without any delay.
All you have to do is relax and have fun. Our driver will be there to greet you with a sign displaying your name or organization and curbside parking. Your flight schedule is checked by our chauffeur and for any kind of delays, will keep you updated. Wixom Taxi service is accessible for the DTW airport and hotels, restaurants, convention centers, theaters, special occasions, and much more.
Take a taxi to the airport in Wixom, MI, through the hotel's personnel or call us at (734)945-6067.
Wixom airport car service | Wixom Taxi Service | Limo service Wixom | Limo Wixom | Wixom Cab Company | Wixom Cab Service | Taxi Wixom, Wixom taxi to DTW | Metro Cab Wixom | Wixom metro airport cars | Wixom taxi to airport | Taxi in Wixom | Taxi Wixom to Detroit airport | Wixom cab to airport | Taxi Wixom mi | Wixom to Detroit airport taxi | Taxi service Wixom mi | Wixom airport taxi | Cabs in Wixom | Taxi from DTW to Wixom | Wixom to Detroit taxi | Metro cab company | Taxi Metro | Metro cabs | Metro taxi near me | Metro cab service | Metro taxi cab | Metro cab DTW | Rides to Detroit metro airport | Metro taxi service | Metrocab taxi | Metro cab near me | Metro cab Michigan | Metro airport taxi Wixom mi |