Macomb Township Airport Taxi & Car Service
Macomb Township Car to DTW Airport
As a well-established and reputable taxi company based in Macomb Township, Taxi Service Macomb Township is your choice for all your travel requirements. If you're looking for someone to provide a fast and reliable service, you need to talk to Metro DTW Sedan.
Why should you book Taxi Service with Metro DTW Sedan?
Secure online booking
Reliable and Professional Drivers
Latest Neat and Clean cars
Flat rates (No-hidden charges)
24/7 Availability
Whether you want a chauffeur service for business travel or airport transportation, we'll strive to meet your requirements. From local routes to longer-distance taxi journeys, we're committed to providing excellent customer service. Our drivers are typically licensed and insured and have undergone rigorous training and background checks to ensure they are qualified to operate a car. They also maintain the cleanliness and safety of the luxury cars and make sure the vehicle is well-maintained. All our luxury cars are equipped with GPS and other tools to ensure that you have the best car service possible. We understand the importance of being on time and ensuring that the customer is satisfied.
Macomb Township Taxi Limo to Detroit Metro Airport Car
Detroit Metro Airport Taxi, Car, Limo & Sedan Service for all your DTW Airport Ground Transportation need 24/7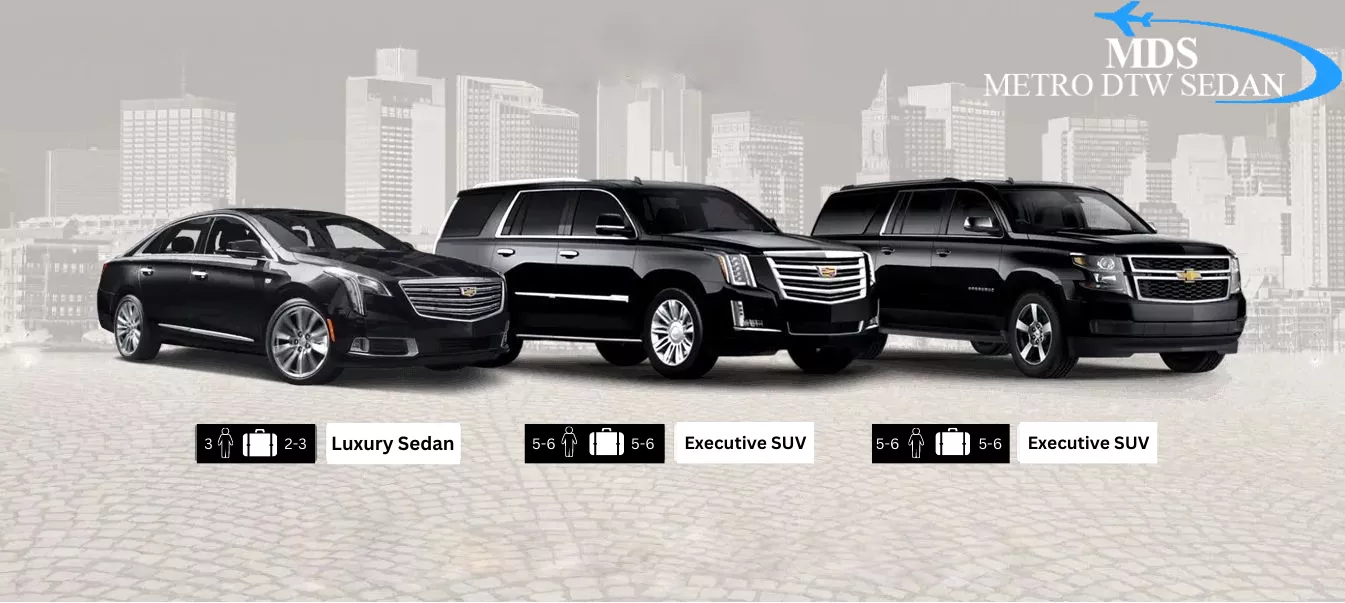 Macomb Township Limo is a fast and reliable limo company for Macomb Township and the surrounding areas. We are a locally-owned limo and airport car service to ensure that your travel experience is as smooth as possible. Metro DTW Sedan offers a variety of services, such as proms, special events or celebrations, airport transportation, and much more. We'll make sure you have a memorable event and experience by giving you the best limo and car service possible.
Metro DTW Sedan provides 24hrs quality service, seven days a week. Our highly-rated customer service team is here to help you with anything you want to know.
At Metro DTW Sedan, Get the Best & Affordable Limo Services:
Airport Luxury Sedan Limo Transportation
Licensed Luxury Sedan Limo Rentals for Airports
Luxury Sedan Limo Rentals for Airports of Wayne & Washtenaw County
Cheap Limo Rentals for Airports
Luxury Black Car Service
Call us at (734) 945-6067 and make a reservation with Metro DTW Sedan.
Airport Car Macomb Township
Airport car service Macomb Township | Macomb Township Taxi Service | Limo service Macomb | Limo Macomb MI | Macomb Cab Company | Macomb Cab Service | Taxi Macomb | Macomb taxi to DTW | Metro Cab Macomb | Macomb metro airport cars | Macomb taxi to airport | Taxi in Macomb | Taxi Macomb to Detroit airport | Macomb cab to airport | Taxi Macomb mi | Macomb to Detroit airport taxi | Taxi service Macomb mi | Macomb airport taxi | Cabs in Macomb | Taxi from DTW to Macomb | Macomb to Detroit taxi | Metro cab company | Taxi Metro | Metro cabs | Metro taxi near me | Yellow cab Ann Arbor | Metro cab service | Metro taxi cab | Metro cab DTW | Rides to Detroit metro airport | Metro taxi service | Metrocab taxi | Metro cab near me | Metro cab Michigan | Metro airport taxi |