Rochester Airport Taxi & Limo Service
Rochester Car to DTW Airport
Rochester Taxi service is a premium transportation service that offers a convenient, safe, and efficient mode of travel for residents and visitors. When you're in search of a taxi, we realize that you need to reach your destination on time. You also need a fair price and a safe driver that you can trust. Our taxi service is always on time, fast and clean. We provide a friendly Airport Taxi Service. With a fleet of well-maintained vehicles and experienced drivers, we strive to provide a hassle-free experience to our customers.
Whether you are looking for Detroit Airport Transportation, a local grocery store or a night out in the town, our friendly and professional drivers will get you to your destination safely and on time. Our vehicles are equipped with GPS technology, ensuring that your trip is as smooth and efficient as possible. We believe in making transportation accessible to everyone, which is why we offer competitive rates and accept all major credit cards. Our 24/7 customer service and online booking system make it easy for you to book a ride at any time, day or night. We are committed to providing a safe and reliable transportation option for our community. Choose Metro DTW Sedan for all your transportation needs in Rochester and surrounding areas and experience the comfort, convenience, and professionalism that we are known for.
Call us at (734) 945-6067 and make a reservation with Metro DTW Sedan.
Rochester Taxi Limo to Detroit Metro Airport Car Service
Detroit Metro Airport Taxi, Car, Limo & Sedan Service for all your DTW Airport Ground Transportation need 24/7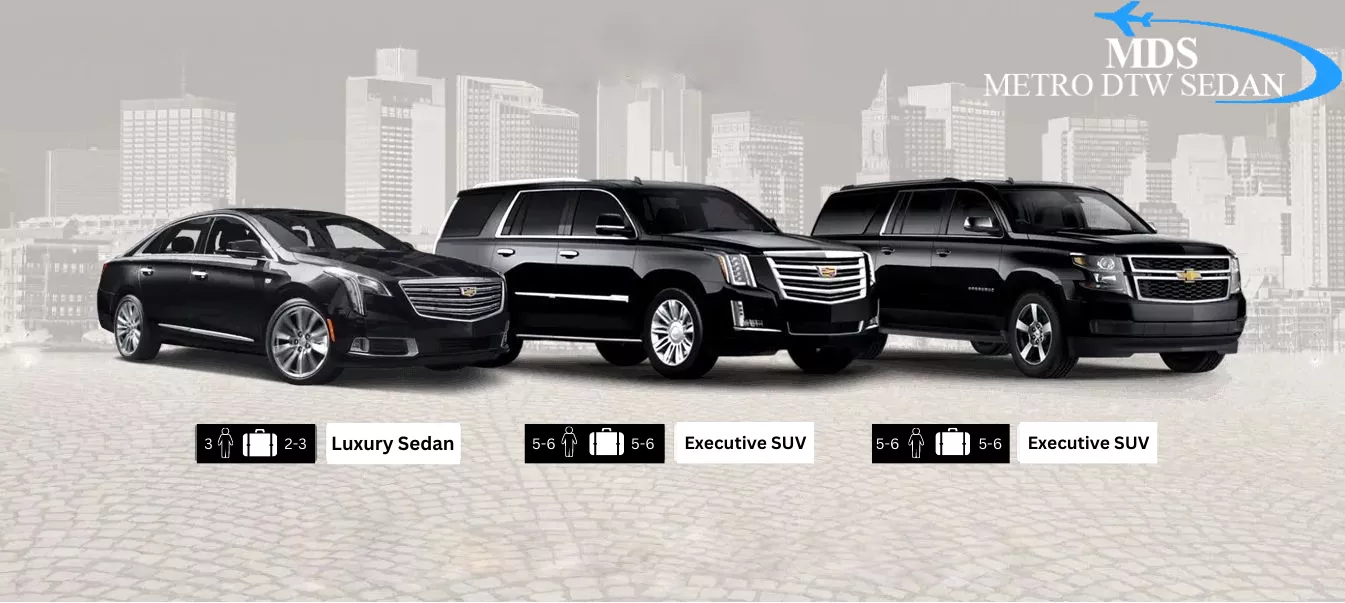 Rochester Limo Service is your ultimate solution for luxury transportation in Rochester. Whether it's for a special event or a corporate function, we provide you with the finest luxury town cars and drivers to get you to your destination in style and comfort. With a focus on customer satisfaction, our airport car service is designed to exceed your expectations and create an unforgettable experience.
A fleet of well-maintained cars includes the latest models from top manufacturers, ensuring that you will arrive at your destination without any stress. Our experienced drivers are knowledgeable and professional. In addition to our luxurious vehicles, we offer competitive rates and a commitment to customer satisfaction. Whether you are a first-time customer or a returning client, you can expect the highest level of service and professionalism from Metro DTW Sedan.
At Metro DTW Sedan, Get the Best & Affordable Limo Services:
Licensed Luxury Sedan Limo Rentals for Airports
Luxury Sedan Limo Rentals for Airports of Wayne & Washtenaw County
Cheap Limo Rentals for Airports
Luxury Black Car Service
Airport taxi Rochester mi
Airport car service Rochester,  Rochester Taxi Service, Limo service Rochester, Limo Rochester, Rochester Cab Company, Rochester Cab Service, Taxi Rochester, Rochester taxi to DTW, Metro Cab Rochester, Rochester metro airport cars, Rochester taxi to airport, Taxi in Rochester, Taxi Rochester to Detroit airport, Rochester cab to airport, taxi Rochester mi, Rochester to Detroit airport taxi, taxi service Rochester mi, Rochester airport taxi, Cabs in Rochester, Taxi from dtw to Rochester, Rochester to Detroit taxi. Metro cab company, Taxi Metro, Metro cabs, Metro taxi near me, Metro cab service, Metro taxi cab, Metro cab dtw, Rides to Detroit metro airport, Metro taxi service, metrocab taxi, Metro cab near me, Metro cab Michigan, Metro airport taxi Rochester mi,