Southfield Airport Taxi & Limo Service
Southfield Car to DTW Airport
If you are looking for a taxi service in Southfield, you need to make sure you can trust someone who will be picking you up. Whether you want to be picked up at the airport in Southfield or just need a luxurious, comfortable way to get around town, car service southfield can meet your needs. We have years of experience in Southfield, so you can rest assured your airport transportation needs are in good hands. Over the years, we've learned the importance of offering great customer service to our customers in Southfield and the surrounding areas. That's why you can rest assured that we're always going to be on time and get you to your destination on time. If you want the most affordable taxi service in Southfield contact Metro DTW Sedan today.
With more than 800 acres of parkland, a public golf course, miles of nature and fitness trails, and numerous other recreational activities for all ages and interests — Southfield city truly has everything for everyone. The city features a nationally recognized public school system, numerous private and parochial schools, and seven colleges and universities.
Southfield Taxi Limo to Detroit Metro Airport Car Service
Detroit Metro Airport Taxi, Car, Limo & Sedan Service for all your DTW Airport Ground Transportation need 24/7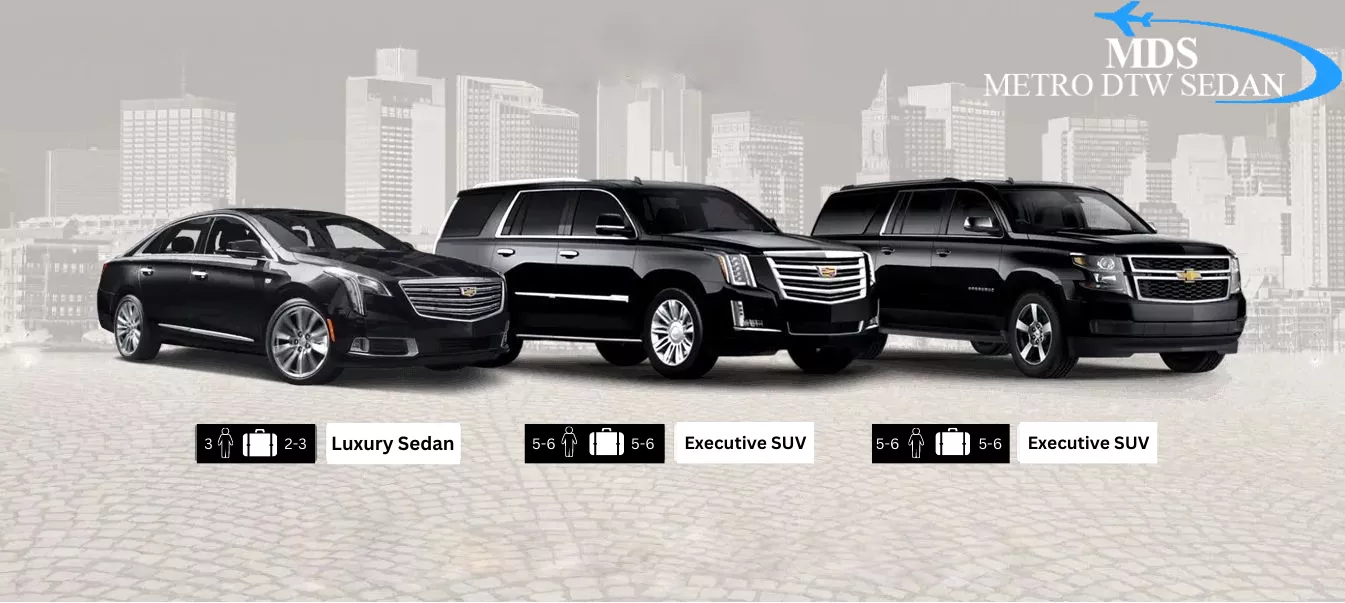 Whether you're in need of a ride to or from the Detroit airport or just a quick trip around town, Detroit airport car service meets your needs. Southfield Limo is the only call you'll have to make for your luxury limo rental in Southfield, Michigan! Metro DTW Sedan has a wide variety of vehicles to choose from. Check out our fleet here and select your vehicle. Southfield car service is very particular about cleanliness. We make sure our vehicles are well-maintained before we rent them to our customers. Premium sound systems and plush leather are just a few of the perks that come with reserving through us. Our customers are very important to our company. It's great that the customer service agents are always friendly and willing to answer any questions you may have. They'll help you find the best airport car service deals from any of your suggested airports including:
 Your limo driver knows the best routes into and out of the city to ensure that you and your guests arrive safely at your destination on time. For the best and most affordable limousine service in Southfield,
Call us at (734) 945-6067 and make a reservation with Metro DTW Sedan.
Airport car service Southfield | Southfield Taxi Service | Limo service Southfield | Limo Southfield | Southfield Cab Company | Southfield Cab Service | Taxi Southfield | Southfield taxi to DTW | Metro Cab Southfield | Southfield metro airport cars | Southfield taxi to airport | Taxi in Southfield | Taxi Southfield to Detroit airport | Southfield cab to airport | Taxi Southfield mi | Southfield to Detroit airport taxi | Taxi service Southfield mi | Southfield airport taxi | Cabs in Southfield | Taxi from DTW to Southfield | Southfield to Detroit taxi | Metro cab company | Taxi Metro | Metro cabs | Metro taxi near me | Metro cab service | Metro taxi cab | Metro cab DTW | Rides to Detroit metro airport | Metro taxi service | Metrocab taxi | Metro cab near me | Metro cab Michigan | Metro airport taxi to Southfield mi |