St. Clair Shores Airport Taxi & Car Service
St. Clair Shores Limo to DTW Airport
You've got options for finding the perfect vehicle from St. Clair Shores to Detroit Airport or Detroit Airport to St. Clair Shores. But none quite compare to the service and fleet offered at Metro DTW Sedan. Our talented team works hard to bring you the best, and we take pride in our work. Contact us today and experience the "We Care" difference. We're sure our airport taxi service can satisfy your needs and make you leave happy and want to return in the future. Wherever you want to go, we're your ride. Our taxis are insured, have trained professional drivers, and are regularly inspected, ensuring a safe, relaxing ride. Helping businesses, students, vacationers, women, and senior citizens with first-class, affordable St. Clair Shores Taxi Service is the goal of our company. 
The City of St. Clair Shores is a suburb bordering Lake St. It is a part of the Metro Detroit area and is located about 13 miles (21 km) northeast of downtown Detroit. The most notable feature of St. Clair Shores is its many miles of canals. They're located in the Nautical Mile on Jefferson between 9 and 10 miles.
St Clair Shores Taxi Limo to Detroit Dtw Airport
Detroit Metro Airport Taxi, Car, Limo & Sedan Service for all your DTW Airport Ground Transportation need 24/7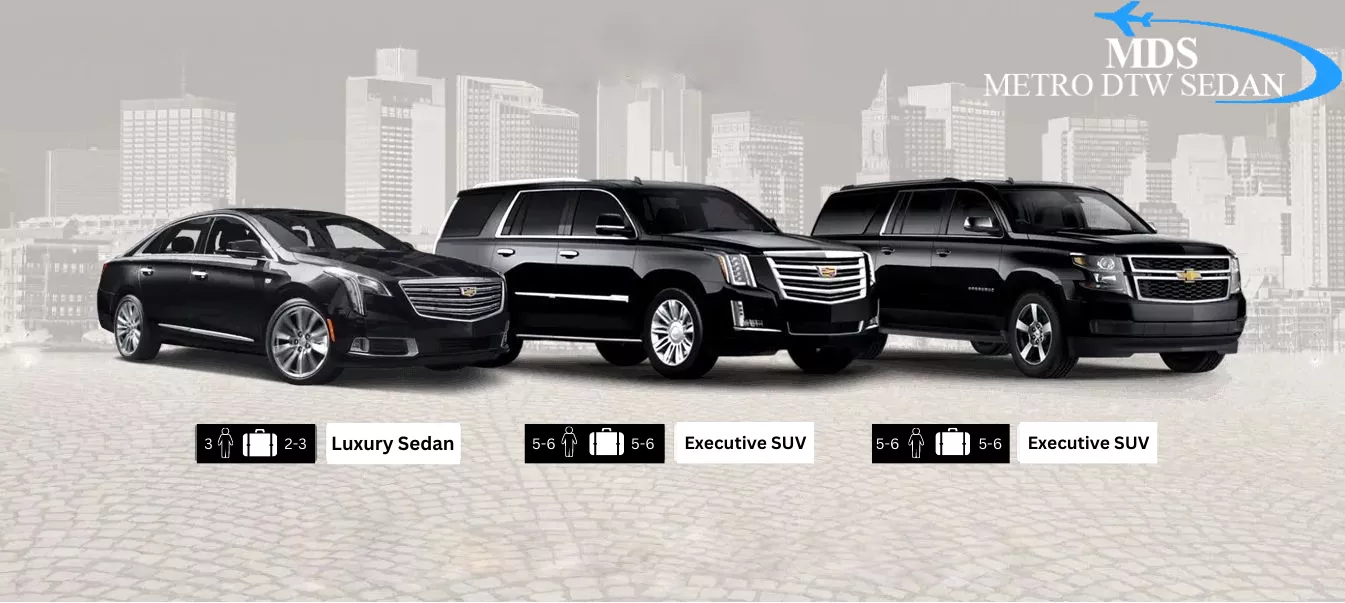 St. Clair Shores Limo Service
Are you looking for a limousine service in Saint Clair Shores, Michigan? Metro DTW Sedan is the largest, most affordable, and most trusted place to find limo or airport car services. Look at St. Clair Shores Limo Service for all your airport transportation needs for any of your suggested airports including:
Whether you're in St. Clair Shores for business or pleasure, you'll find what you need here. You can be on your way very quickly with us. Our reps are ready to help you with trip planning and setup. They'll handle the details and run it right. So you can enjoy yourself when you're out on the town or taking clients out for an important meeting or event. We want to make sure you can book your reservation with us and worry about nothing but having a good time during your ride. Our team works hard daily to ensure you get the best experience possible.
– Call us at (734) 945-6067
Airport taxi St. Clair Shores
St Clair Shores airport car service | St Clair Shores Taxi Service | Limo service St Clair Shores | Limo St Clair Shores | St Clair Shores Cab Company | St Clair Shores Cab Service | Taxi St Clair Shores | St Clair Shores taxi to DTW | Metro Cab St Clair Shores | St Clair Shores metro airport cars | St Clair Shores taxi to airport | Taxi in St Clair Shores | Taxi St Clair Shores to Detroit airport | St Clair Shores cab to airport | Taxi St Clair Shores mi | St Clair Shores to Detroit airport taxi | Taxi service St Clair Shores mi | St Clair Shores airport taxi | Cabs in St Clair Shores | Taxi from DTW to St Clair Shores | St Clair Shores to Detroit taxi | Metro cab company | Taxi Metro | Metro cabs | Metro taxi near me | Metro cab service | Metro taxi cab to St Clair Shores | Metro cab DTW | Rides to Detroit metro airport | Metro taxi service | Metrocab taxi | Metro cab near me | Metro cab Michigan | Metro airport taxi to St Clair Shores |