Grosse Pointe Airport Taxi & Limo Service
Grosse Pointe Car to DTW Airport
MDS Grosse Pointe Cab Service offers airport taxi services for Detroit Metro Airport (DTW), including Detroit, Grosse Pointe Farms, Milford,  Shelby Township, Troy and all of Southeast Michigan. We have the huge, best-maintained vehicle of taxis in Detroit Michigan.
Grosse Pointe Limo Service
If you're planning a trip somewhere in Grosse Pointe or you just want to have fun with your friends, reach out to Grosse Pointe limo service. We have the latest fleet of cars, including luxury black cars, SUVs, and limos. Our professional drivers are dedicated to providing safe and efficient transportation services to their customers. Drivers are typically licensed and insured and have undergone rigorous training and background checks to ensure they are qualified to operate a car. They are knowledgeable about the local area and have the necessary skills to navigate through traffic and get their passengers to their destinations on time. With our professional drivers and town car service, we will not only get you where you need to go, but you will go there in doing so in style. We provide airport car service and limo Service to all major airports including:
Grosse Pointe Taxi Limo to Detroit Metro Airport
Detroit Metro Airport Taxi, Car, Limo & Sedan Service for all your DTW Airport Ground Transportation need 24/7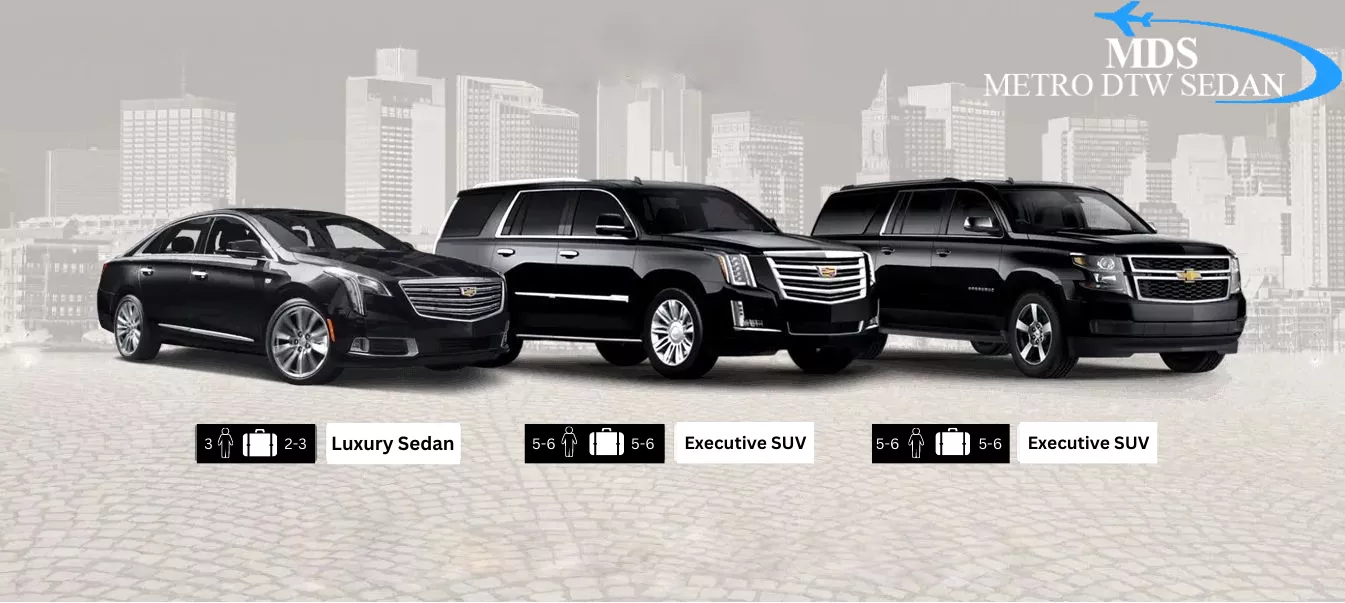 Grosse Pointe Taxi Service
Grosse Pointe Taxi Service is your premier transportation provider in the beautiful city. We understand that getting around from Detroit Metro Airport to Grosse Pointe and vice versa can be a hassle, which is why we're dedicated to making your experience as seamless and stress-free as possible. Our fleet of clean and well-maintained vehicles is operated by professional and experienced drivers who know the city very well. Whether you need a ride to the airport or a night out in the town, your only call should be to the Grosse Pointe taxi service
We pride ourselves on our punctuality and courteous service. Our drivers are always on time and will go the extra mile to make sure you have a pleasant experience. Metro DTW Sedan offers competitive rates and accepts all major credit cards for your convenience. Don't waste your time and energy trying to navigate the city. Let  Taxi Service Grosse Pointe take the stress out of transportation for you. Book your ride today and experience the difference for yourself.
For the best and most affordable airport taxi service from Grosse Pointe to Detroit Metro Airport, call us at (734) 945-6067 and make an online reservation with Metro DTW Sedan.
Airport taxi Grosse Pointe
Airport car service Grosse Pointe, Grosse Pointe Taxi Service, Limo service Grosse Pointe, Limo Grosse Pointe, Grosse Pointe Cab Company, Grosse Pointe Cab Service, Taxi Grosse Pointe, Grosse Pointe taxi to DTW, Metro Cab Grosse Pointe, Grosse Pointe metro airport cars, Grosse Pointe taxi to airport, Taxi in Grosse Pointe, Taxi Grosse Pointe to Detroit airport, Grosse Pointe cab to airport, taxi Grosse Pointe mi, Grosse Pointe to Detroit airport taxi, taxi service Grosse Pointe mi, Grosse Pointe airport taxi, Cabs in Grosse Pointe, Taxi from dtw to Grosse Pointe, Grosse Pointe to Detroit taxi. Metro cab company, Taxi Metro, Metro cabs, Metro taxi near me, Metro cab service, Metro taxi cab, Metro cab dtw, Rides to Detroit metro airport, Metro taxi service, metrocab taxi, Metro cab near me, Metro cab Michigan, Metro airport taxi to Grosse Pointe,