Farmington Hills Airport Taxi & Limo Service
Farmington Hills Cab to DTW Airport
Farmington Hills Limo Service
When you are looking for safe and reliable transportation services in Farmington Hills, MI, your only call should be to Metro DTW Sedan. We are a reputable limousine rental company that takes pride in providing top-quality high-end transportation services within Farmington Hills and all of its surrounding areas. Customer satisfaction is our top priority. This is how we got to be known as the best car service and limo service company in Farmington Hills.
Our fleet is equipped with top-of-the-line luxurious vehicles that have leather interiors, laser-lighting HDTVs, and more. We are experts in luxury. Farmington Hills has so many amazing places to go to, and our drivers are familiar with the area like none other. We'll get you there to the destination and back in a timely manner, so you don't need to worry about your town car services, and you can concentrate on having fun!
At Metro DTW Sedan, Get the Best & Affordable Limo Services:
Airport Luxury Sedan Limo Transportation
Licensed Luxury Sedan Limo Rentals for Airports
Luxury Sedan Limo Rentals for Airports of Wayne & Washtenaw County
Cheap Limo Rentals for Airports
Luxury Black Car Service
Farmington Hills Taxi Limo to Detroit Dtw Airport
Detroit Metro Airport Taxi, Car, Limo & Sedan Service for all your DTW Airport Ground Transportation need 24/7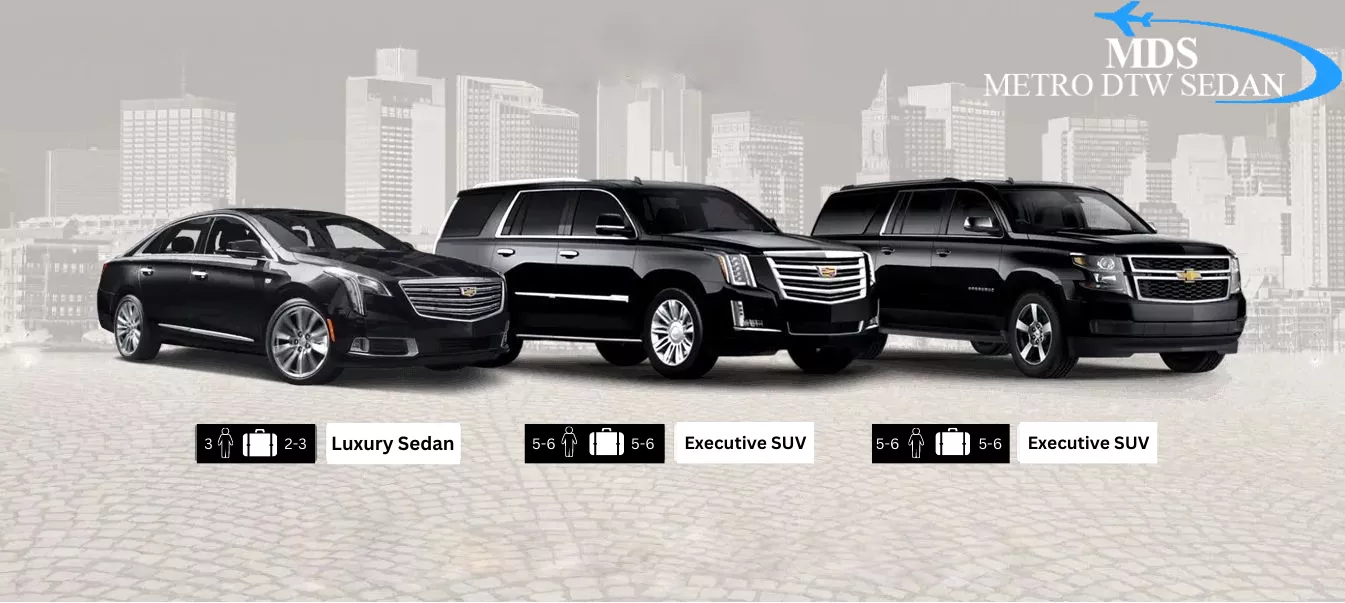 Metro DTW Sedan makes airport transportation more efficient, convenient and affordable with Farmington Hills Taxi. If you are looking for a reliable and professional taxi service from DTW Airport to Farmington Hills, look no further than the taxi service Farmington Hills. We offer the best rates, the best drivers, and the easiest booking process.
Farmington Hills is a northern suburb of Detroit and the largest city in Oakland County. The city is full of shopping malls, parks, convention centers, recreation areas, and other excellent attractions. It is the home of the Holocaust Memorial Center, which is the only Holocaust memorial in MI. Our drivers are knowledgeable and know the city streets and routes very well. They will ensure that you arrive at your desired destination on time. We also understand the importance of cleanliness and safety of our customers, that's why all of our vehicles are thoroughly cleaned and sanitized after each trip, and we follow all the safety protocols to ensure the safety of our passengers and drivers.
Call us at  (734) 945-6067 and make an online reservation with Metro DTW Sedan.
Airport taxi Farmington Hills
Airport Car Service Farmington hills | Farmington hills Taxi Service | Limo service Farmington hills | Limo Farmington hills | Farmington hills Cab Company | Farmington hills Cab Service | Taxi Farmington hills | Farmington hills taxi to DTW | Metro Cab Farmington hills | Farmington hills metro airport cars | Farmington hills taxi to airport | Taxi in Farmington hills | Taxi Farmington hills to Detroit airport | Farmington hills cab to airport | Taxi Farmington hills mi | Farmington hills to Detroit airport taxi | Taxi service Farmington hills mi | Farmington hills airport taxi | Cabs in Farmington hills | Taxi from DTW to Farmington hills | Farmington hills to Detroit taxi | Metro cab company | Taxi Metro | Metro taxi near me | Rides to Detroit metro airport | Metro taxi service | Metrocab taxi | Metro cab near me | Metro cab Michigan | Metro airport taxi |