Grosse Pointe Farms Airport Taxi & Limo Service
Grosse Pointe Farms Car to DTW Airport
Over the years, Grosse Pointe Farms Airport taxi service and cab service have become known as the best choice for getting to and from Metro Detroit International Airport (DTW). Metro DTW Sedan provides high-quality airport taxi services at reasonable prices. Our professional drivers are dedicated to providing safe and efficient transportation services to their customers.
Grosse Pointe Farms is located on the southwest shores of Lake St. Clair. Grosse Pointe is a community of close-knit residential communities. The city is renowned for its pristine green streets and lakeside recreational facilities. The charming district offers the best in business and shopping. Some notable landmarks in Grosse Pointe Farms include the Grosse Pointe War Memorial, the Grosse Pointe Yacht Club, and the Edsel & Eleanor Ford House. The city is also home to several parks and nature preserves, as well as the Grosse Pointe South High School, which is known for its strong academic and athletic programs.
Grosse Pointe Farms Taxi Limo to Detroit Airport
Detroit Metro Airport Taxi, Car, Limo & Sedan Service for all your DTW Airport Ground Transportation need 24/7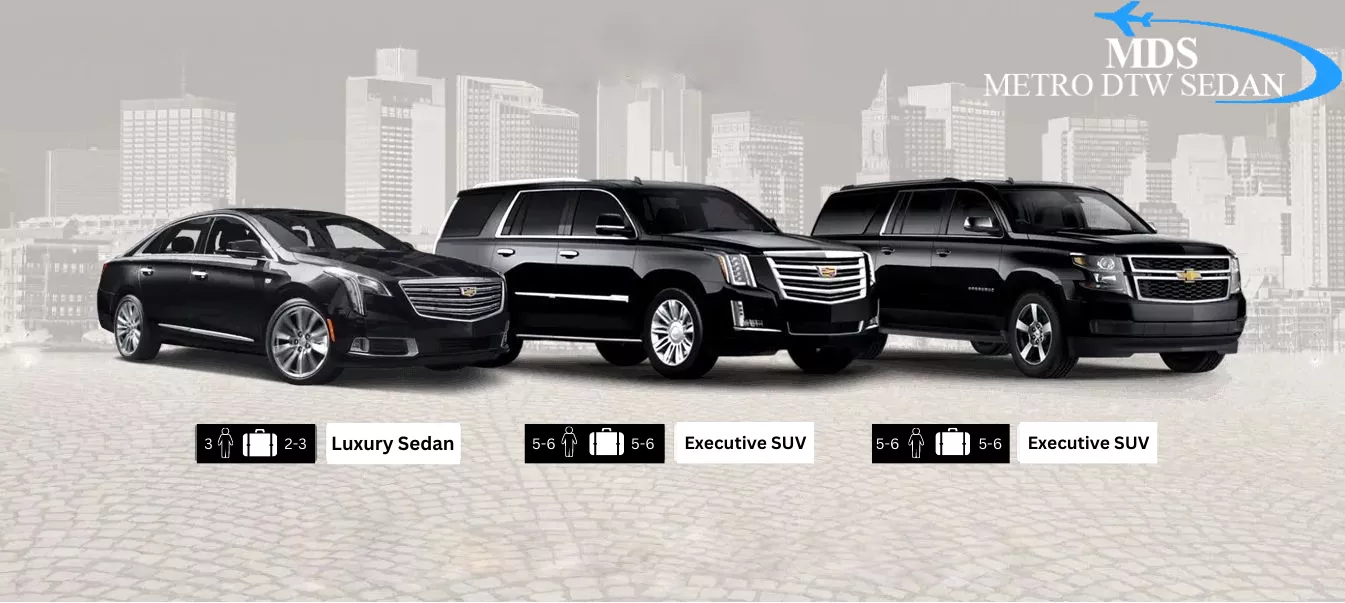 Our top Grosse Pointe Farms limo service is specifically designed to assist visitors and residents by providing the most luxurious transportation services. Our door-to-door luxury transportation services are safe and efficient. All of our airport cars are driven by skilled and professional chauffeurs. These drivers are typically licensed and insured and have undergone rigorous training and background checks to ensure they are qualified.
The luxury vehicles that we have in our fleet are comfortable and have all the amenities with USB chargers, tablets and free WIFI, snacks, and beverages. At Metro DTW Sedan, Get the Best & Affordable Limo Services:
Licensed Luxury Sedan Limo Rentals for Airports
Luxury Sedan Limo Rentals for Airports of Wayne & Washtenaw County
Cheap Limo Rentals for Airports
Luxury Black Car Service
 Call us at (734) 945-6067 and make an online reservation with Metro DTW Sedan.
Airport taxi Grosse Pointe Farms
Airport car service Grosse Pointe Farms | Grosse Pointe Farms Taxi Service | Limo service Grosse Pointe Farms | Limo Grosse Pointe Farms | Grosse Pointe Farms Cab Company | Grosse Pointe Farms Cab Service | Taxi Grosse Pointe Farms | Grosse Pointe Farms taxi to DTW | Metro Cab Grosse Pointe Farms | Grosse Pointe Farms metro airport cars | Grosse Pointe Farms taxi to airport | Taxi in Grosse Pointe Farms | Taxi Grosse Pointe Farms to Detroit airport | Grosse Pointe Farms cab to airport | taxi Grosse Pointe Farms mi | Grosse Pointe Farms to Detroit airport taxi | Taxi service Grosse Pointe Farms mi | Grosse Pointe Farms airport taxi | Cabs in Grosse Pointe Farms | Taxi from DTW to Grosse Pointe Farms | Grosse Pointe Farms to Detroit taxi | Rides to Detroit metro airport | Metro taxi service | Metrocab taxi | Metro cab near me | Metro cab Michigan | Metro airport taxi |