Westland Airport Taxi Limo & Car Service
Westland Taxi to DTW Airport
Westland taxi service to and from Detroit Metro Airport (DTW) is provided by MDS Westland Cab Service, which serves the whole region of Southeast Michigan, including the cities of Livonia, Canton, Grosse Pointe, Detroit,  Northville, and more. Our taxi fleet in Detroit, Michigan, is the largest and most well-maintained in the industry.
MDS Ground Transportation Westland, MI, is owned and operated by the Metro DTW Sedan, based out of West Bloomfield. We are active participants in the NLA. As a company, we're committed to ensuring every one of our customers is satisfied with the service they receive. We have a huge collection of fleet including SUVs, Limos, Sedans, and Sprinter vans available vehicles.
Regarding airport transportation in Detroit, nothing beats Westland Airport Limo's selection. We take pride in providing town car services, Christmas light excursions, and winery trips in Michigan. Limo service to and from the DTW airport for solo rides as well as large groups of people manage with Sprinter van for groups of 8 to 14 passengers. We also offer airport transfer services to other regional and major airports including:
Westland Taxi Limo to Detroit Dtw Metro Airport Car Service
Detroit Metro Airport Taxi, Car, Limo & Sedan Service for all your DTW Airport Ground Transportation need 24/7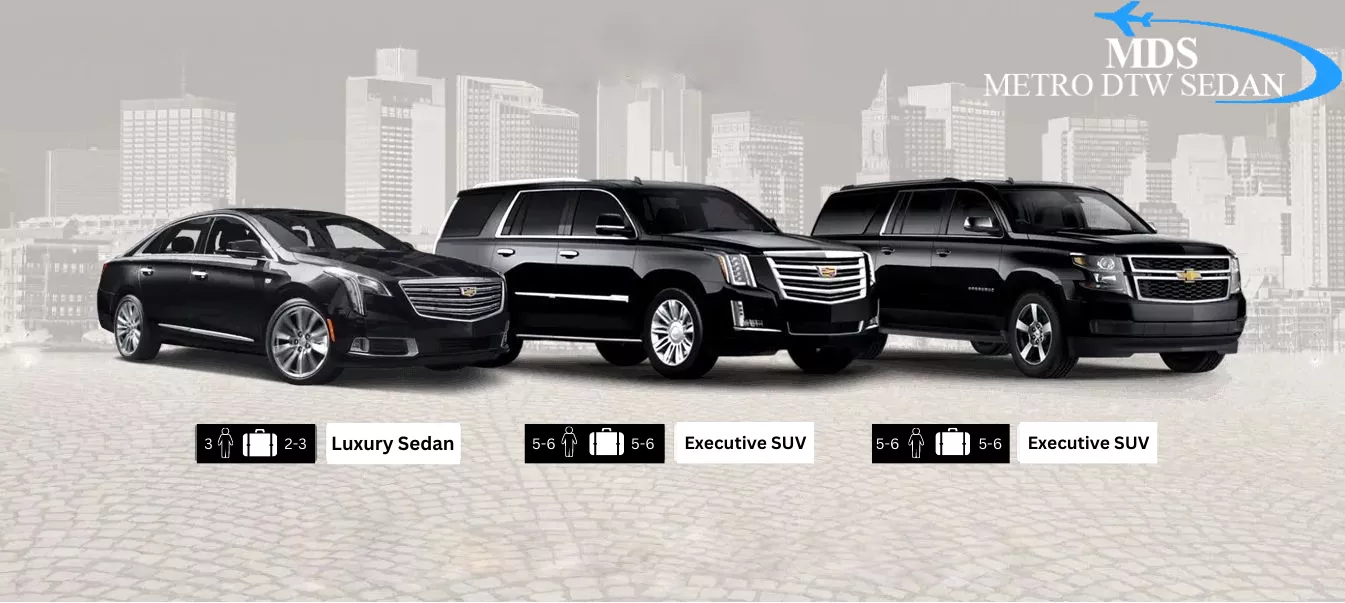 Metro DTW Sedan provides the best automobile service for business travelers in the Metro city. They can transfer individuals or teams from large corporations to more manageable enterprises. Professionals can count on Westland Taxi to Detroit DTW for well-timed, and safe transportation to and from Westland, Michigan. If you're looking for a car in Westland, We have an excellent selection for you to pick from the Mercedes-Benz Sprinter, the Lincoln MKT Sedan, and the Cadillac Escalade are all available options.
Our dispatch team strives to be the best in the industry, providing first-rate transportation for corporate events, celebrity guests, and regular commuters. The pressures of business travel, and time deadlines, will meet your expectation.
For the best and most affordable limo service in Westland, call us toll-free at (734) 945-6067 and make a reservation with Metro DTW Sedan.
Westland airport car service | Westland Taxi Service | Limo service Westland | Limo Westland | Westland Cab Company | Westland Cab Service | Taxi Westland | Westland taxi to DTW | Metro Cab Westland | Westland metro airport cars | Westland taxi to airport | Taxi in Westland | Taxi Westland to Detroit airport | Westland cab to airport | Taxi Westland mi | Westland to Detroit airport taxi | Taxi service Westland mi | Westland airport taxi | Cabs in Westland | Taxi from DTW to Westland | Westland to Detroit taxi | Metro cab company | Taxi Metro | Metro taxi near me | Metro cab service | Metro taxi cab | Metro cab DTW | Rides to Detroit metro airport | Metro taxi service | Metrocab taxi | Metro cab near me | Metro cab Michigan | Metro airport taxi to Westland MI |